1…2…3… wait a minute, why are there so many sheep in this room? And why is counting them not helping you fall asleep?
Well, sleeping is a lot harder than it used to be. 
In our increasingly distracting, dinging, and horn-honking world, finding a good night's sleep is a task. People of all ages struggle to catch the perfect Zzzs… almost every night. 
According to official statistics by the National Heart, Lung, and Blood Institute, around 50-70 million people in the country experience sleep disorders, including insomnia. 
But sleeping on sleep is absolutely unhealthy. 
A good night's sleep gives your brain the perfect downtime to rest and recharge. It keeps your cognitive skills sharp and responsive and allows you to manage your memories effectively. It also decreases negative emotional responses to stressful situations and increases positive emotions. 
While there are no magic formulas for getting good sleep, research shows that soothing sleep sounds apps can do the trick. From white noise to background noises from Amazon forests and oceans – find out which relaxing sleep sounds app will help you sleep better.
To help you get started, we have compiled a list of the best apps for sleep sounds. Whether you are someone dealing with sleep issues or just looking to create the perfect bedtime atmosphere – there's a sleep sounds app for you. Let's get started.
But First, What's The Science Behind Relaxing Sleep Sounds Apps?
A study published in the Journal of Neuroscience found that primate brains (including humans) tune out sounds while sleeping. However, the parts of the brain that process these sounds continue to function. 
Everyone is sensitive to sounds while sleeping. But, there are different levels of this sensitivity. So, some people might wake up at the drop of a pin, and others might sleep through loud noises easily.
The sounds that we notice while sleeping can have a detrimental effect on our sleep patterns. While it mostly depends on personal preferences, certain relaxing sleep sounds can help almost all of us fall asleep. These include:
white noise (sound that combines all frequencies that effectively masks other noises),
ocean waves,
rainforest animals,
thunderstorm,
slow-paced contemporary-style music, etc.
Our list of the best apps for sleep sounds contains options that provide all these options with a vast library of music and much more. Let's dive in.
7 Best Apps For Sleep Sounds
1. myNoise 
Available: Android | iOS
Cost: Free with paid subscription features
myNoise is one of the best apps for sleep sounds. With its extensive library of free sleep music, customization settings, and high-quality sound – it is one of the most relaxing sleep sounds apps. 
While myNoise might not have the best interface or aesthetic appeal, it pretty much makes up for it through its wide range of features. With natural sounds, industrial tones, soundscapes, voices, ambiance sounds, and much more in its unpaid version, this is one of the best free sleep music apps. It also has a noise color mixer that allows you to create your own preferred sleep sound. It also has a timer and alarm feature that will enable you to set a duration for the chosen sounds. 
2. Naturespace
Available: Android | iOS
Cost: Free with paid subscription features
Naturespace is another one of the best soothing sleep sounds apps known for its realistic and pristine nature-themed tracks. The app calls its sounds 'a multi-faceted solution for creating a calm and balanced mental state.'
While that might sound a little over the top, you get the point, right? 
Naturespace is well-known for its realistic natural sounds created with advanced recording techniques to capture ambient sounds like raindrops, natural environments, and much more. 
Naturespace allows you to create a custom library or playlist of your favorite sounds. And the best part – you can even access it offline.
3. BetterSleep
Available: Android | iOS
Cost: Free with paid subscription features
With a user-friendly interface that allows you to create customized tracks from an array of sound catalogs, BetterSleep is also one of the best apps for sleep sounds. 
BetterSleep was designed to give users auditory experiences that help them calm down right before falling asleep. The app is simple and easy to use. It has a Discover feature where you can access other features like breathing exercises and bedtime stories. 
You can explore different types of sounds, including Sound Wave, Wind, or Vinyl Records.
What makes this one of the best deep sleep sounds apps is its wide range of audio tools that allows you to layer these songs with each other to create a truly personal sleep playlist. 
And if you are confused about where to start, the app also has a large range of user and staff-created music.
4. Noisli
Available: Android | iOS
Cost: Free with paid subscription features
Noisli is truly the new-generation soothing sleep sounds app. It transforms you into an ambient sound DJ and allows you to mix and match different sleep sounds to create the one that puts you in deep slumber. 
Although initially designed as a background noise app to help people concentrate and focus more effectively, Noisli is one of the best sleep sounds apps for anyone looking to fall asleep to music or sounds. 
Noisli allows you to customize 16 different sleep sounds, including white noise, pink noise, rain, thunder, and much more, to create something that truly allows you to relax. If you are not in a particularly creative mode, a vast premade playlist is available for you to enjoy without extra effort. 
5. Pzizz
Available: Android | iOS
Cost: Free with paid subscription features
Pzizz is one of the best and most popular apps for sleep sounds. It contains unique features called dreamscapes, which are mixes of voiceover, music, and sound effects that are perfect to help you get a good night's sleep.
The relaxing sleep sounds app uses scientific (psychoacoustic) tools to create the perfect bedtime and naptime tracks. In fact, you can click on any of the tracks and understand the process by which it is made and the effects it can have on your sleep.
One thing that sets Pzizz apart from other best apps for sleep sounds on this list is the voice narration tool. If you prefer a voice helping you relax while you sleep, this is one of the best deep sleep sounds apps for you. This is a great tool for anyone struggling with sleep problems due to isolation.
Another notable feature of Pzizz is that it is also curated to improve your daytime naps. So, if you constantly struggle to rest during the day or wake up tired, Pizizz is one of the best apps for sleep sounds for you!
6. Sleep By Headspace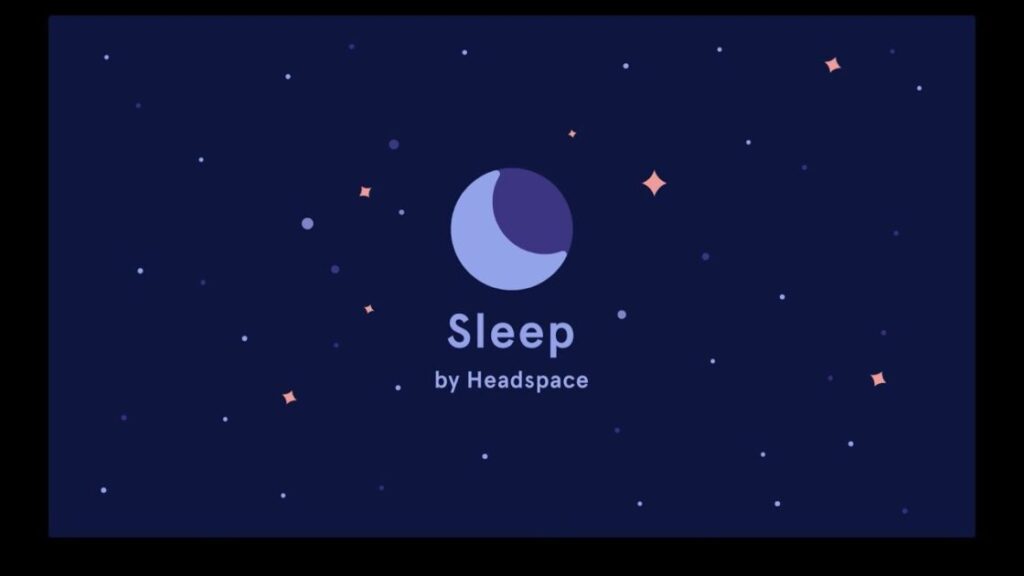 Available: Android | iOS
Cost: Paid subscription 
Sleep by Headspace is created specifically with the purpose of helping you fall asleep. In-built within the Headspace app, the Sleep Music section has an entire library of sleep-specific tools to help users rest and recharge effectively. 
The Sleep icon is at the bottom of the Headspace app and allows users to easily access a vast library of options, including Sleep Radio, Sleep Music, and much more. After selecting a track, the app asks you to put a timer for the duration of the same. Once done, you can lie down and let the music spread its magic.
The Sleep by Headspace app contains a wide range of sleep sounds. It includes unique sounds, too, like white noise with violin, chirping of crickets, etc. – making it one of the most unique relaxing sleep sounds apps. 
7. Atmosphere
Available: Android | iOS
Cost: Free 
One of the very few completely free sleep music apps, Atmosphere lets you create a playlist tailored to your needs, whether it is a morning Yoga session or a peaceful night's sleep. With as many as 70 different sounds, including countryside, beach, park, and other ambient notes, the relaxing sleep sounds app has a wide range of tones. 
Atmosphere uses isotonic and binaural beats to help users relax and calm down before sleeping. You can create your own customized playlist with the best music that suits you! The unique part – you can even set the volume of each sound specifically and then save the playlist for future use. 
The built-in timer is great for automatically switching off the track when the duration ends. This way, you don't have to worry about draining your battery overnight. 
Conclusion:
Science says that sleeping with sounds can help you sleep better. It can help you relax and unwind after a busy day and promote sleep hygiene, an essential part of your overall well-being. This is exactly why the best apps for sleep sounds are beneficial for you. They provide a wide range of options and built-in tracks to help you figure out what suits you best.
We hope this list of the best soothing sleep sounds apps will help you get started right away. 
Still struggling to fall asleep? You might be dealing with a sleep disorder! To learn more about the warning signs of having a sleep disorder, click here.
To continue learning about mental health daily, subscribe to Your Mental Health Pal.